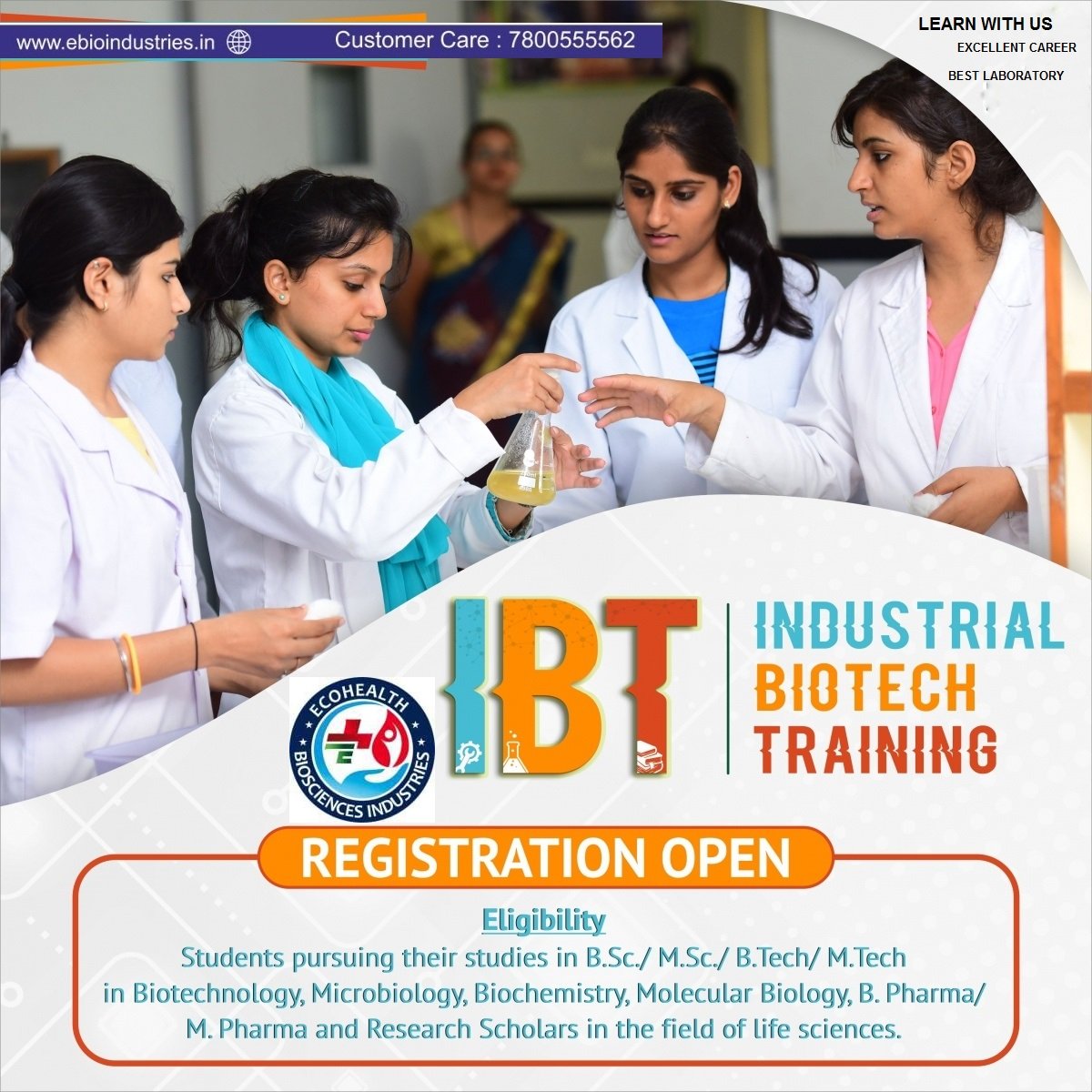 Service Over View
Ecohealth& Biosciences Industries is a company of its own kind which has very strong governing & advisory in clinical research, products formulation and academic board. It provides good platform for training & placement in the different technological fields i.e. Clinical Biotechnology, Clinical Microbiology, Biochemistry, Medical Science, Life Science & Agriculture, which is backbone of the industries for its success.
The mandate of Ecohealth& Biosciences Industries is to undertake product formulation, research and industrial training from basics to industrial level in biosciences domains. We are fastest growing research services provider in India, covering every states of the country. We offer more than 350 research services in almost all areas of life sciences& clinical pathology.
Our Services and Training are customized to user's requirements with international standards of quality and useful for faculty/ research fellows/ post graduate (M.Sc/ M. Tech) /graduate students (B.Sc. / B. Tech) in Biotechnology/ Life Science/ Microbiology/ Biochemistry/ Food Technology/ DMLT/ Lab Technician etc. to solve their problems associated with their research topic or project.
Industrial training
Provide the participants with an introduction to the theory and practice of bio analytical technique.
Water Testing in pharmaceutical.
Microbial Limit Test of finish Products in Pharmaceutical Industry.
Bacterial Endotoxin test in Pharmaceutical Industry.
Environmental Monitoring of Classification area in pharmaceutical Industry.
Introduce students to FOOD PROCESSING, Fermentation technology.
Introduce students to the role of Process Validation and Quality Assurance in Agricultural field, Manure processing, food & beverage processing.
Plant tissue culture, Molecular biotechnology, pharmaceutical & Clinical industry.
To be aware of the latest trends in good manufacturing, laboratory and validation practices.
CLINICAL MOLECULAR BIOLOGY
Blood Culture. Culture. Identification and antibiotic susceptibility testing.
Molecular Biology. Syndromic diagnosis. Extraction of nucleic acids. Amplification & Detection. Genome sequencing.
VIDAS® range.
Lab Services. Lab Consultancy.
Placement Process
The Placement Cell plays a crucial role in locating job opportunities for Under Graduates and Post Graduates passing out from the training by keeping in touch with reputed firms and industrial establishments. The students are trained to attain placement through a variety of programmes run by the Placement & Training Cell such as:
Industry to Institute Programmes – Corporate leaders from leading industries are invited regularly to interact with students.
Various Training Programmes are organized to train the students in the areas of Aptitude, Quantitative Reasoning, Logical Reasoning and Verbal through the Reputed External Training centers and IIM Alumni's
Technical training programmes are being conducted by Technical experts
Language learning programmes to train students in developing their communication skills and foreign language skills such as Japanese
Training through Mock Interviews for students to perform well in the professional interviews as per the expectations of the corporate world.
TRAINING / PROJECT AREA
CLINICAL MICROBIOLOGY
List of Laboratory Tests – Microbiology
Aspirate culture & sensitivity.
Aspirate for AFB.
Blood culture & sensitivity.
Cholera ag.
CSF- culture & sensitivity.
Ear culture & sensitivity.
Endocervical swab.
OFFLINE TRAINING PROGRAM
| Program (Projects) | Duration | Fees |
| --- | --- | --- |
| Concept & tools on instruments | 3 Days | 1000/- |
| Short term training practical | 7 Days | 1500/- |
| Dissertation / Project on one Topic | 1 Month | 5000/- |
| Dissertation / Project on one Topic | 2 Month | 7000/- |
| Summer Training | 30 Days | 5000/- |
| Dissertation / Project on one Topic | 3 Month | 10000/- |
| Dissertation / Project on one Topic | 6 Month | 15000/- |
| Molecular Biology | Duration | Fee |
| --- | --- | --- |
| Molecular Biology RT-PCR Based Test | 15 Days/ 1 Month | 7000/- |
| Medical Molecular RT-PCR Based Test | 1 Month | 10000/- |
| PCR & Gel electrophoresis | 1 Month | 10000/- |
| Genetics Plasmid / RNA Recombinant | 1 Month | 20000/- |
| Food Processing | Duration | Fee |
| --- | --- | --- |
| Food Processing & Quality Control | 1 Month | 7000/- |
| Quality Control & Quality Assurance analysis of Products | 1 Month | 7000/- |
| Plant | Duration | Fee |
| --- | --- | --- |
| Plant Tissue Culture | 1 Month | 12000/- |
| Mushroom Cultivation | 1 Month | 4000/- |
| Microbiology | Duration | Fee |
| --- | --- | --- |
| Industrial Microbiology | 1 Month | 5000/- |
| Medical Microbiology | 1 Month | 6000/- |
ONLINE / VIRTUAL TRAINING PROGRAM
| Program | Duration | Fee |
| --- | --- | --- |
| Concept & tools on instruments | 3 Days | 500/- |
| Short term training practical | 7 Days | 1000/- |
| Summer Training | 30 Days | 3000/- |
| Dissertation / Project on one Topic | 1 Month | 4000/- |
| Dissertation / Project on one Topic | 2 Month | 5000/- |
| Dissertation / Project on one Topic | 3 Month | 7000/- |
ONLINE PAYMENT MODE
Student Can Pay Online Admission Fees/Training/Research Services fees By GooglePay, PhonePay, Paytm On 7800035732 OR Through Scanner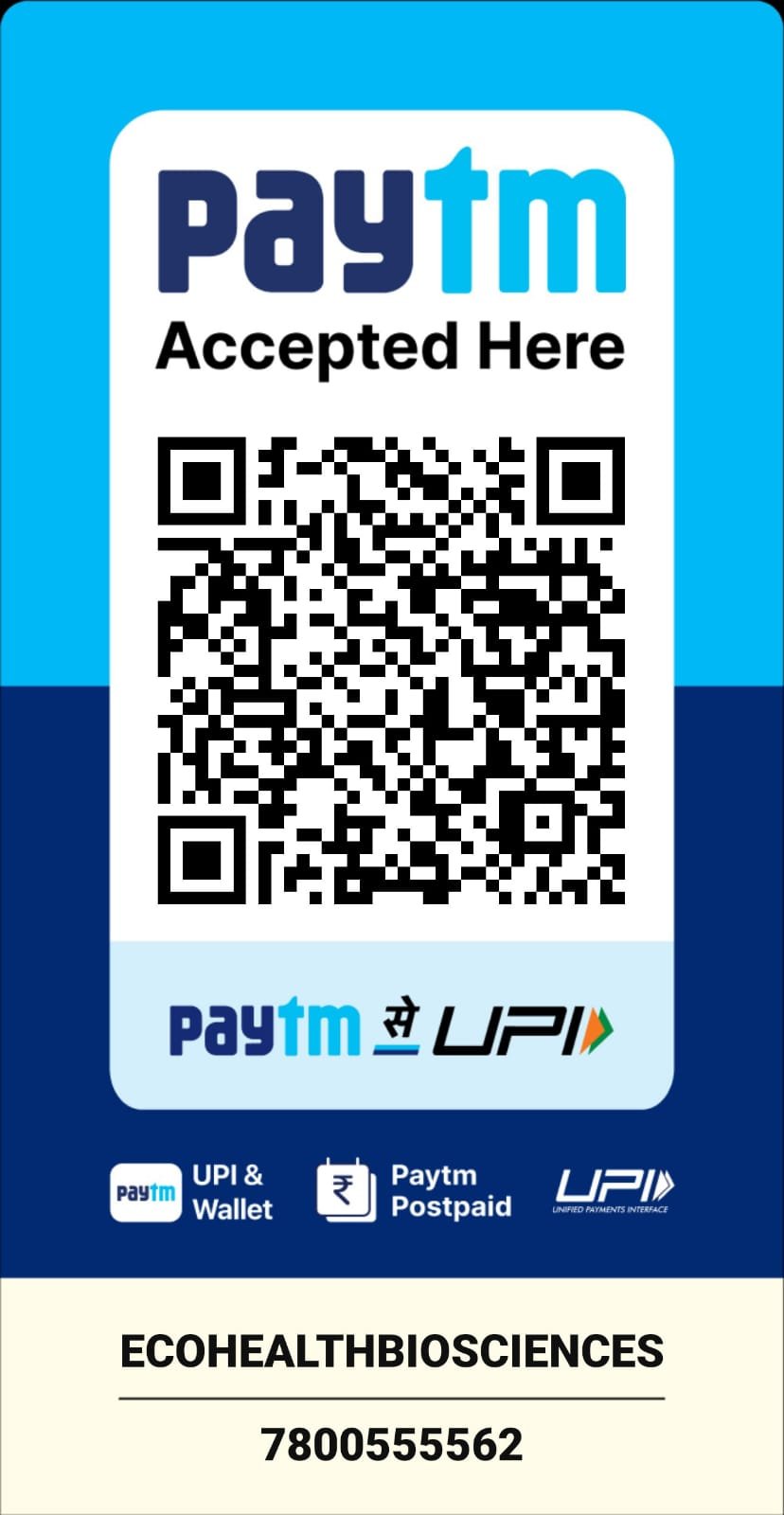 Training Registration Form